Do you operate a Boutique, Spa, Salon, Gift Store, Specialty Shop, Inn, Bed & Breakfast, Resort or other fine establishment?
1 of our many Displays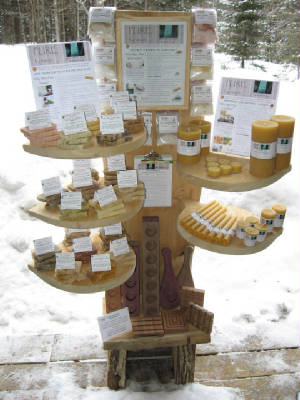 If so, maybe you'd like to be a wholesaler of our fine products. From 1994 to 2005, consumers have increased purchasing "ALL NATURAL" products by 60%. Clearly, it's become an important priority in today's households and amongst vacationers to use products that are environmentally friendly and 100% ALL NATURAL. Furthermore, with our economy slowing down, National Studies have shown that women (in particular) play a large part in the decision of where they vacation and what they purchase for their family and home goods. So, when women want to "splurge" on themselves or those they love, they choose establishments that cater to their health. In that same study, women are also MORE inclined to purchase afforable items under $20 that they can use as a gift, an immediate need, satisfaction or gratification. Our products indulge the senses of...touch, smell, sight and even the body.
What better products to add in your business then homemade, "good for you & the environment" ALL NATURAL items?
Our mailorder and website customers are constantly asking us why our products aren't readily available in their towns or cities.
NOW, they can be!
Simply fill out the form below and we will get in touch with you as soon as possible.
Thank you for your interest in PURE by nature.